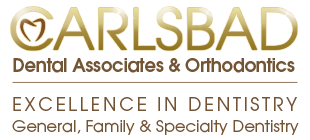 5814 Van Allen Way
Suite 220
Carlsbad, CA 92008 | View Map
Carlsbad Dental Associates is a multi-specialty dental practice that offers comprehensive and personalized dental services under one roof. We serve the communities of Carlsbad, Vista, San Marcos, Oceanside, and the entire North County of San Diego.
Carlsbad Dental Associates is the only dental practice in the area that combines meaningful services such as multiple specialists within our practice that can take care of all of your family's dental and oral health needs in one great location. You will no longer need to be referred to other facilities and have to drive to remote specialist offices in order to receive complete dental care, such as root canal, wisdom teeth extraction, gum disease treatment, braces, dental implants, complete dental makeovers and more.
Hours
Mon-Tue: 8:00am – 5:00pm
Wed: 9:00am – 6:00pm
Thur: 8:00am – 5:00pm
Fri: 8:00am – 5:00pm
Sat: 8:00am – 3:30pm
Sun: Closed